Uniform
Club Uniform
Children in our competitive program must have club leotards and correct uniform when competing, gymnasts are expected to adhere to this dress code as they are out in the public eye and are representing our club. Please ensure your gymnasts have the correct gear at every competition.
Leotards - Leotards are made through Tick Tock designs, we will have a sizing day every year in November to be fitted for a leotard if needed for the next years competition season.
Track suits jackets and white t-shirts these are hired from the club for a yearly fee of $30
Plain black leggings Gymnasts must purchase a pair of plain black leggings to wear with their tracksuit jackets for marshalling, warmup and presentations. These MUST be plain black with no labels showing.
Plain black bike shorts or leggings may be worn by gymnasts while they are competing, these MUST be plain black with NO labels showing.
Handguards Recommended from step 2 so the girls can start to get used to them. Compulsory from step 3.
Taking care of your leotard
They are made from delicate fabric - please only gently hand wash using gentle soap to keep them sparkly.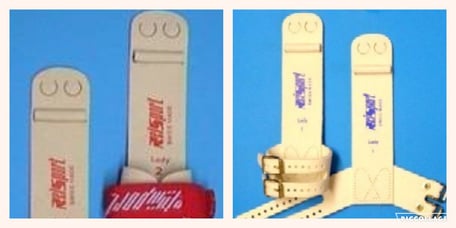 Handguards
Handguards are compulsory for step 3 up. They have increased time on the bars and are more at risk of getting painful rips on their hands which can put them out of training on the bars for some time.
Handguards are recommended but not compulsory for step 2 to get them used to wearing hand guards as early as possible as they do take some time to adjust.
Gymnasts for safety reasons must purchase handgrips with dowels.
The club recommends reisport hand grips, either buckle or velcro is acceptable.
You can purchase from these links:
htthttps://www.gmdirect.com.au/collections/womens-grips
http://www.swimwise.co.nz/reisport.htm
The ladies reisport hand grips with dowels are at the bottom of the list of handguards in either velcro or buckle. the site explains how to measure for the correct size hand guards, please follow those instructions carefully.