Club History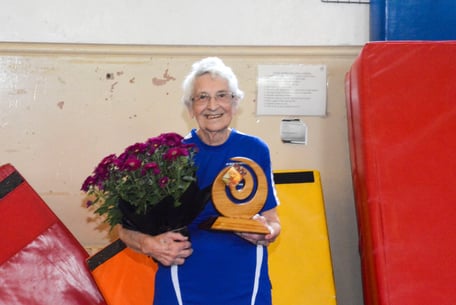 MNZM
Patricia Gweneith Broad QSM
Dunedin
For services to gymnastics
Nearly 30 years after receiving a Queen's Service Medal for community services, Patricia Broad has received another honour — an MNZM for services to gymnastics.
The 89-year-old has been involved with gymnastics for 55 years, during which time she has established, and been head coach of, the St Bernadette's Gymnastics Club since 1964.
"I feel pleased and surprised that people have thought to put in the nomination, and I'm pleased for the sport because it's getting some recognition."
Mrs Broad has helped with all aspects of the club's administration, she continues to coach five days a week on a voluntary basis, and the club hosts competitions throughout the year for gymnasts around the region.
She has coached at many levels, from junior pupils at St Bernadette's School to a number of Otago representatives competing in the New Zealand Gymnastics Championships.
She has been a judge for Gymnastics New Zealand since 1977 and attained her international judge qualification in 2006.
Until recently, she regularly judged at national competitions for more than 25 years.
Mrs Broad continues to judge at many South Island competitions each year.
For her dedication to gymnastics, she was awarded a Kiwibank Local Hero Award in 2014.
odt.co.nz/regions/southern-recipients-queens-birthday-honours-2020
St Bernadette's Gymnastic Club History
The club is possibly the oldest in New Zealand.
1964 -The club was founded by Patricia Broad who still coaches 5 days a week to this day. It initially operated out of St Bernadette's hall on a Monday evening for 1.5 hours.
1965 - First Annual General Meeting, Club now affiliated to national body. 1 hour after school class added for St Bernadettes School girls. First competition held for Artistic and Rythmic at end of the year.
1966 - Began school holiday courses for students from St. Peter Chanel, St Brigid's, St. Francis Xavier and St Bernadette's schools. Helped provide volunteers for the very first Otago Championships held at the Caledonian. Held the first Primary School Gymnastics competition for artistic and Rhythmic and started hosting Saturday afternoon classes for incentive awards.
1967 Monday night Boys Class added and a Saturday afternoon Senior incentive awards class
1968 - First competitors in competitions - leotards plain royal blue bri nylon
1969 - First gymnast registrations to national body, Pathfinders club visited for coaching and competition
1971 - New class added for year 1 & 2 (primers)
1972 - New Leotards darker blue with white trim and neck and sleeves. Wednesday class added
1978 - Started lunch time class at St Patricks School, Gymnasts attended South Island champs, interclub juniors, Rhythmic, tumbling and Otago Champs
1981 - Saturday training moved to St Patricks Hall
1983 - Incorporated status
1984 - Boys leotard, white sweatshirt tops for club tracksuits
1990 - St. Patricks building sold - club moved to top floor of Stewart's Building Thomas Burns Street.
1991 - Stewarts building sold - shared Stafford St building with Balmacewen Gymnastic Club along with St Edmonds hall and St Bernadette's hall
1992 - Gym fun cards purchased
1997 - Still in Stafford street, took over the lease from Balmacewen after they merged with Athlon.
2003 - Northern Gymnastic club moved into share Stafford Street with St Bernadettes and College Street Gymnastics Club
2004 - College Street Gymnastic Club moved out
2007 - New compeition leotards for juniors
2008 - Moved to Burt Hall King Edward Court building with Northern Gymnastic Club
2009 - New Tracksuits for Juniors
2010 - Meetings regarding combining all clubs decided not for us.
2011 - Northern Gymnastic Club compeition group went into recess, gymnasts coming to us
2012 - All Northern Classes into recess, recreational gymnasts coming to us.
2013 - Facebook page set up
2014 - 50th Jubilee
2016 - Sylvia Bell taking a satellite after school recreation class at Silverstream in Mosgiel
2017 - New Gymnova bars and beams purchased. Club leotards changed and club merchandise available - now being made by PW, Faciliatated by Lyrical.co.nz. Mosgiel class ceased.
2018 - New Website, Club moved onto Freindly Manager system (Gymnastics NZ requirement), GST Registered and moved to accounting system Xero. Tessa Henderson started a satellite after school recreation class in Winton.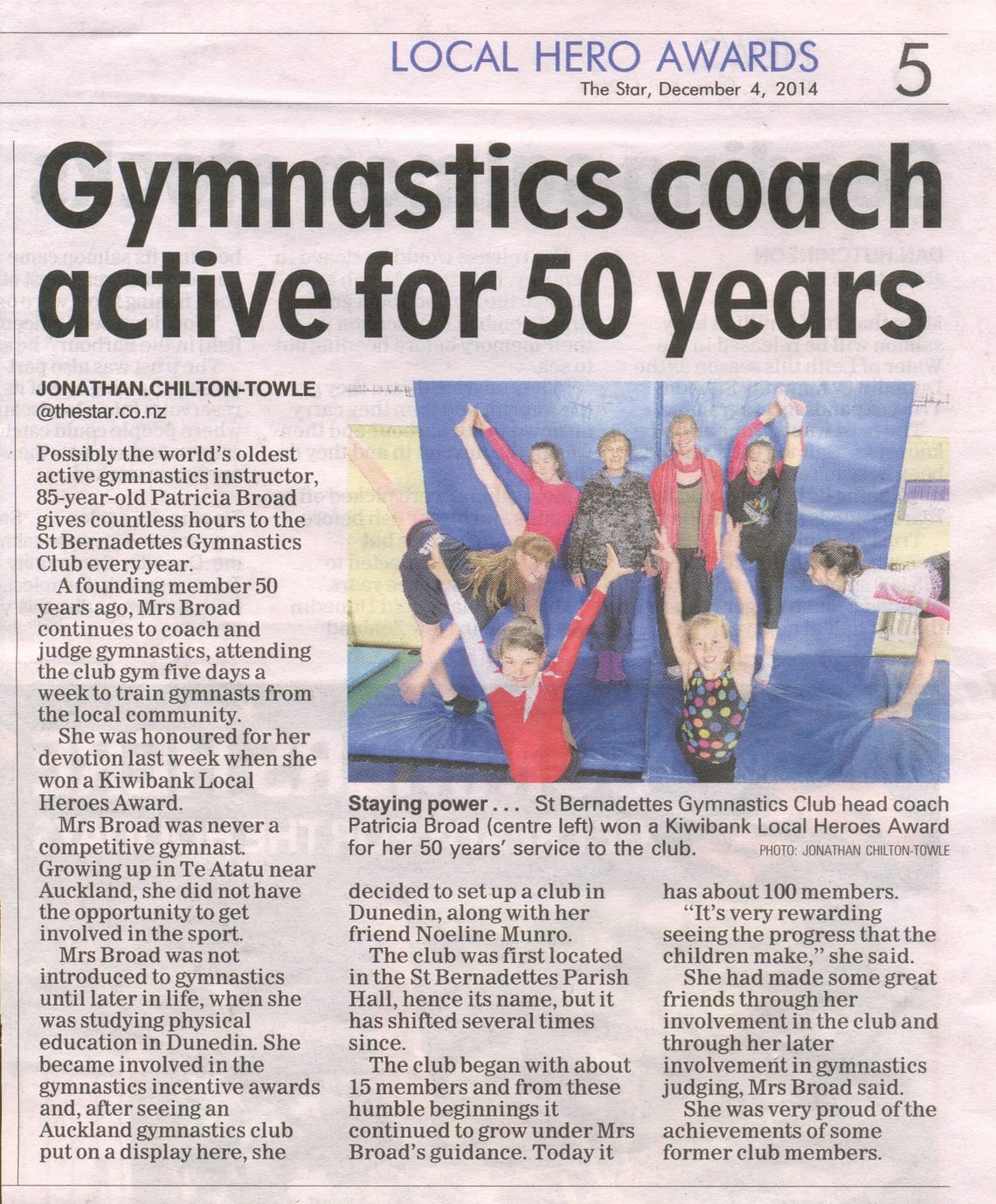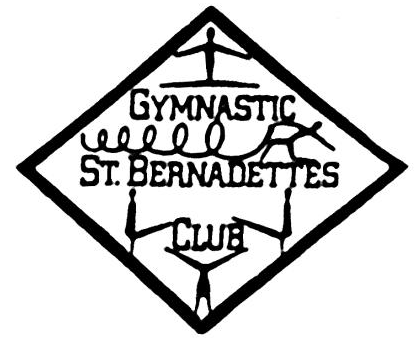 Old Logo which was superceded in 2017 by the current logos.
Designed by Kelvin Broad in use from 1964 - 2017